Below is a link and copy of a Bladeforums.com review of one of our friction folder models. The publishing of this text is used under permission of the original author. 
"Introduction
On the week of Christmas Eve, I had the privilege of meeting forum member Notchback. I was looking for a classic friction folder, one that would be as comfortable in a professional environment as well as outdoors. I contacted Doug through Facebook (forgot my forum password at the moment) – he replied almost instantaneously. I was blown away by his quick response rate with pictures and information. I'm a ridiculously annoying guy. I'm the buyer who asked him for endless detailed pictures of his canvass and paper micarta textures, then deciding that wood is better. So hats off to Doug. It took me just one night to decide to pick up his friction folder. I sent him money via. PayPal on Christmas Eve and within three hours the knife had already left the post-office. When the knife arrived, I also detected that he lubricated the pivot and rubbed linseed oil on the maple right before shipping so I wouldn't have to do it myself. In short, Doug is the best.
Even with the standard USPS holiday package merry-go-round, the knife got here in 3 days. I found this beauty inside:

I named this beauty the "Robin Hood", in honor of its rustic English maple handle and forest-green G-10 scales. It comes with a 3 inch blade in CPM-154 steel. It is super light for such a meaty handle and thick blade at 2.5 ounces. I can almost hear my knife speaking in the accent: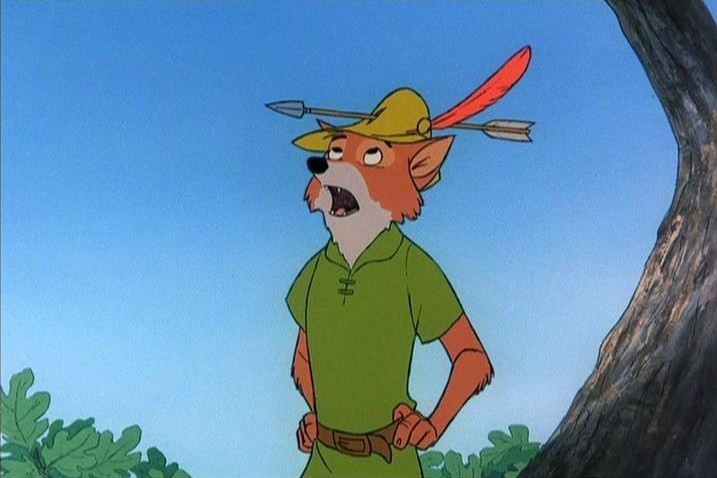 Fit & Finish/Ergonomics
The fit and finish is excellent. The transitions from maple scale to G-10 liner to maple spacer are undetectable by touch, which I've never had on any of my wood-handled custom knives of higher price. The blade centering is currently not centered from my own immediate tampering, but Doug clearly centered it when new because of the subtle marks on the brass stop-pin. The maples handles are so meaty and well-contoured, that I got better grip area on it than my much bigger Opinel #12. This is really impressive given that an Opinel #12 is much bigger and heavier. Here is a shot of the transition between the maple covers, G-10 then spacer:

Blade
The blade is CPM-154, which is self-explanatory. Stainless. Tough. Corrosive-resistant. It is treated to 59 HRC and will stand up to all the abuse I'm going to put it through. As of this writing I've already pried open a few paint cans for some New Years projects. When I noticed how thick the blade stock was, I was afraid that I was getting a mini crowbar. The blade stock at the ricaso is 0.146 inches, which is much thicker than all of my Spyderco knives. Surprisingly, it slices like a dream. It still shaves like a monster. Whatever sorcery Doug is performing in his shop, I'm hope he keeps doing. Because the blade stock is so thick, I'm confident it will double as makeshift prybar whenever I need it. The flipper tab is also a cutout which serves as a bottle opener. The blade shape is mix of two classics, little bit or spear-point and clip. Overall, I am very satisfied with how the blade is done, and it will tackle anything I throw at it. Here is the blade in comparison to a Spyderco Paramilitary 2 & Domino:
Miscellaneous Bits of Genius
– Pivot Screw: It's about time somebody put pivot screws on traditionals and friction folders. Makes lubrication and flipping much easier. And thanks for making it HeX *unlike some other custom makers with their proprietary screws*. Thanks Doug!
– Pocket Clip: Thin and discreet. Uses Torx screws *unlike some other custom makers with their proprietary screws*. I personally don't use pocket clips, but like the pivot screw it makes life much easier.
– Bottle Opener: The bottle opener is discreet and hides partially into the handle, while not sacrificing any function. It doesn't have the "tactical" intimidation factor like some other bottle opening notches. It also won't nibble off your hand like piranhas when reaching into your pockets.
– Material Combination: English maple scales with green G-10 liners. This solves an issue that every knife carrier deals with. How can I carry a knife with the most versatile materials without the intimidation factor? If I have a G-10 and titanium handle, the knife is too "tactical" and will have you leaving in handcuffs. If my handle is wood or any other organic material, I have to worry about the natural consequences. The answer was to slap a tuxedo over the machine, and that's what Doug did. The G-10 liners guarantee whatever chemistry experiments you try inside won't damage the beautiful maple scales. The maple scales and spacer turn the knife into a tool that is casual and appropriate in your office, bank or street (Ok, maybe not the bank).
And that mosaic pin is so cool:
I also forgot to mention that the knife arrived packaged in some of his handcrafted leather. It is super nice as well, and really adds to the natural feel of the knife.
Conclusion
I got Robin Hood for $150 CONUS shipped in three days. It would have been much less of a wait if it wasn't Christmas Eve, but definitely worth any wait. You can tell that Doug genuinely cares about his customers and his craftsmanship. The knife itself arrived as perfection. The fit and finish is much better than custom knives I've purchased in the past for double or triple the price. The blade is durable and isn't afraid of any challenge. If you add in the beautiful materials, pivot screw and machining- the knife is just sheer awesome. This knife isn't for tactical-heads, but for traditional collectors who want Doug to add some modern features while preserving the rustic aura of the knife. Please don't hesitate to contact Ugly Dog Blades if you've been itching for a friction folder or fixed blade. I will leave his profile link here again:
http://www.bladeforums.com/forums/member.php/335254-notchback"]Notchback
Thanks Doug!
RR69″

Source: http://www.bladeforums.com/forums/showthread.php/1464504-Ugly-Dog-Blades-quot-Backup-V2-quot-Friction-Folder-Review